Mailbag: Is Ohio still a swing state? And why do we have so many counties compared to bigger states?
Confession: I am sort of bummed there will be no national conventions this year.
At least, not in the traditional, pomp-and-circumstance, Clint Eastwood-talking-to-an-empty-chair way.
Sure, they are gaudy. Of course, they are needlessly dramatic. But these conventions only happen once every four years. I like seeing the up-and-coming politician try to make a name for themselves. I enjoy the D-list celebrities invited to do early evening crowd work. 
Alas, there is this pesky pandemic still going on, and hosting thousands of politicos in one arena is not the smartest idea. (Perhaps it's not a good idea in normal times.) 
Both parties are sticking with a virtual convention this year. As such, there will be far fewer speakers this year. In 2016, the Democratic National Convention had over 50 speakers on just the opening night. In 2020, there are fewer than 50 planned for the entire week.  As of this writing, the Republican National Convention speaker list has yet to be announced, but I imagine it too will be abbreviated from the crowded schedule of years past. 
I say, let's spice things up and let Eastwood talk to his empty computer chair. The first senator who forgets to take themselves off mute has to sponsor the next perfunctory name-a-post-office bill. Something.
If only there had been a little bit more drama with the primaries. Imagine how much fun a brokered convention would be if conducted over Zoom call. 
Now on to the mailbag …
Got a question about Ohio politics? Send them to [email protected] or tweet them to @tylerjoelb.
"Is Ohio now a swing state? If so what are the paths to victory for Trump/Biden?"
Answer: Hoo boy. You got 10 hours to spare?
This is one of those inquiries that if you ask five different people, you'll get five different answers. 
But you asked me, so I'll do my best. 
If we define "swing state" as a state in which both presidential candidates are vying for in 2020 and have a legitimate shot of winning, yes, I do think Ohio counts as a swing state.
There were no shortage of Is Ohio Still A Swing State? headlines over the past few years, but polls conducted throughout the summer show how close the race is in Ohio.
Over five polls conducted since the beginning of June, Biden averages a 2% lead over Trump. That's essentially a statistical tie.
I feel comfortable predicting the vote will be closer than in 2016, which saw Trump defeat Democratic nominee Hillary Clinton by an 8% margin. That was the biggest margin Ohio had seen in decades. 
As for the paths for victory … one interesting tidbit from a recent CBS News/YouGov poll is how few voters are actually up for grabs. The poll found 72% of likely Ohio voters have already made up their minds. Another 21% say they are "strong" in their support for their respective candidate and "probably won't change."
That least just 7% of voters who are open to being convinced. In a tied race, though, that 7% could make all the difference.
At the risk of sounding extraordinarily cliche, the fact that 90-plus percent of Ohioans have their presidential pick made shows this result will be a question of turnout. (I didn't minor in political science at college for nothing, folks.)
Which probably explains why voting access has been such a big topic in 2020. Advocates have loudly complained about the policy of making Ohioans pay for postage, along with Secretary of State Frank LaRose declaring that there will only be one ballot drop box per county this fall. Who knows what other developments with the USPS we'll see in the next few months.
Ohio is still going ahead with its lengthy mail-in voting period; month-long, in-person early voting period; and traditional voting on Election Day. Hopefully ballot access doesn't play a factor in the result this November. 
It certainly helps Biden that a majority of Ohioans say they disapprove of Trump's job as president, per a Quinnipiac poll in June. Ohio voters also believe Biden would do a better job than Trump on the coronavirus response, health care and race relations.
Trump, though, fares better in polls on the issue of the economy. That's good news for an incumbent navigating treacherous economic waters in 2020 as a result of the coronavirus. Biden will surely attempt to tie the unprecedented job losses to Trump's handling of the coronavirus pandemic. We'll how the two campaigns present those arguments in the barrage of campaign ads coming our way in the next few months.
Speaking of which, I think it benefits Trump slightly that Biden is unable to campaign in Ohio and make his case to arenas of supporters. As president, Trump gets an avalanche of attention and exposure.
Besides the 2020 presidential election, there is a broader question of Ohio's political leanings. That gets into the conversations of political power, gerrymandering and a host of other things. We'll leave that to a different mailbag. 
"Why are there 88 counties in Ohio but only 58 counties in California, a much larger state?"
Answer: Because we're cooler. 
This question comes from an occasional Ohio Capital Journal author and host of a podcast that brings brilliant people on to discuss healthcare issues. (And, when such a brilliant person cannot be found, he invites me.)
First of all, let's note that California has one of the truly ridiculous county maps in all of America.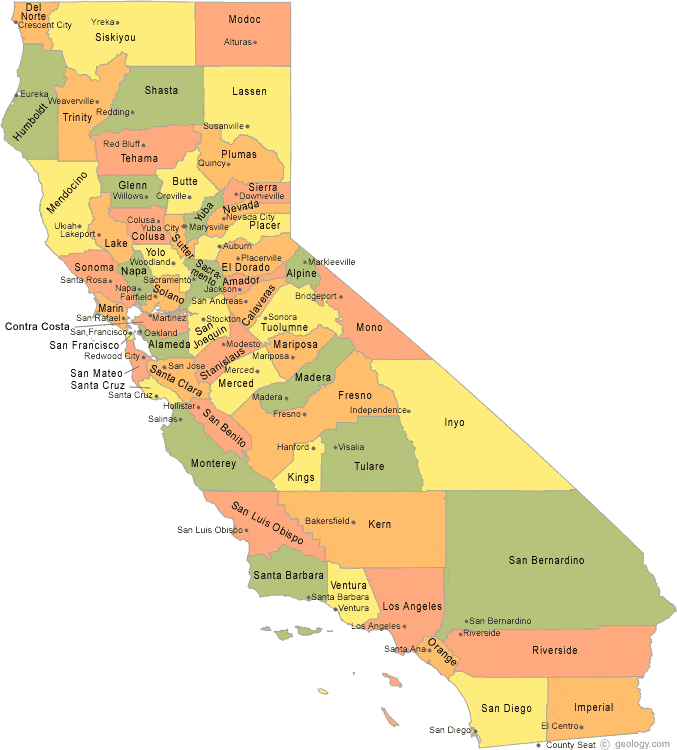 Just look at San Bernardino County. It's over 20,000 square miles! That's bigger than three states: Connecticut, Delaware and Rhode Island. It's almost half as big as the entire state of Ohio. 
This question sent me on a digital journey to learn more of how Ohio got to the number of 88 counties. The Professional Land Surveyors of Ohio website has a 2014 presentation from Michael G. Buettner laying it all out. If you can't trust the Professional Land Surveyors of Ohio for this information, who can you trust? 
The first Ohio county, so to speak, was formed in 1788 — before Ohio even became a state. The area we now know as Ohio was then part of the Northwest Territory and was mostly split up geographically based on treaty lines and rivers.
By the time Ohio was ratified as a state in 1803, we were up to nine counties. Another eight were added by the end of that year.
We got up to 34 within five more years; essentially the larger counties kept getting whittled down and split up into smaller counties. 
We hit the halfway mark of 44 with the creation of Monroe County in 1813. Another 15 were added in 1820, then things slowed down a bit. Ohio added Lorain in 1822 and Holmes in 1824, but there wouldn't be another new county for almost a decade.
The last three were Fulton, Vinton and Noble counties around 1850. 
More than a dozen counties have never had a boundary change since being formed, while others were changed repeatedly throughout the 19th Century. 
I highly encourage you to give the presentation a read. It's interesting stuff. 
Got a question about Ohio politics? Send them to [email protected] or tweet them to @tylerjoelb.
Our stories may be republished online or in print under Creative Commons license CC BY-NC-ND 4.0. We ask that you edit only for style or to shorten, provide proper attribution and link to our web site. Please see our republishing guidelines for use of photos and graphics.